Though there are many reasons which are often stated, including the most common which simply makes the case that Britain was so desperate to survive World War II, that little accreditation could be given to India's sacrifice. The fact that colonial rule ended just two years later meant there was little time to build monuments or to create a legacy about World War II in India and Pakistan. The take over of governing India by the first Congress Government in India in 1950, would be a time where there hardly. was any interest in enshrining World War as a nation-building concept for India. At the same time, ideologically detailed discussion about World War II would have necessitated giving Subhas Chandra Bose the credit he was due. Nehru nor Congress had any intention of dealing with the idea that Subhas Chandra Bose was a major factor for why independence finally came in 1947 as opposed to being delayed once more as happened after World War I. With these issues present World War II would become a difficult subject to make a conclusion in one way or another.
During World War II, there were Indians who fought for Indian Freedom and not for the British Empire. Most Indians at the time felt World War II was not their war, and that India was once more being exploited for both sacrifices of life, and sacrifice of what little wealth it had left after 190 years of colonialism. The idea that India was fighting a greater evil than even the colonialism which had caused the death of 66 Million Indians in colonial famines did not register for those who would join Subhas Chandra Bose. Indians had perished from hunger, disease and false imprisonment for more than a century. The views of the Japanese Empire fighting the British Empire were far more palatable to a great number of Indians than the idea of defending a tyranny that refused to leave. Shaheed Udham Singh would fearlessly state at his trial in London in 1940, that though the British Empire maintained itself at home as a democracy it mowed down Indians with machine guns on the streets of India and those who were unlucky enough to be completely economically deprived in India, simply died of hunger in the open, their corpses often were left and not even picked up for days.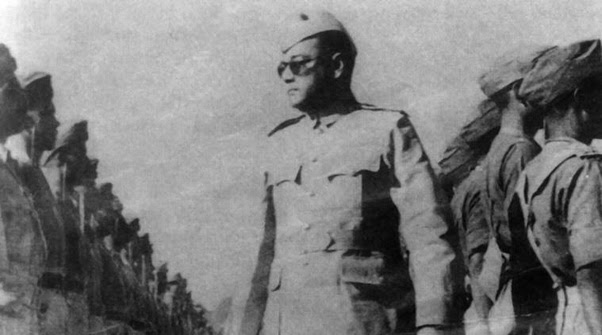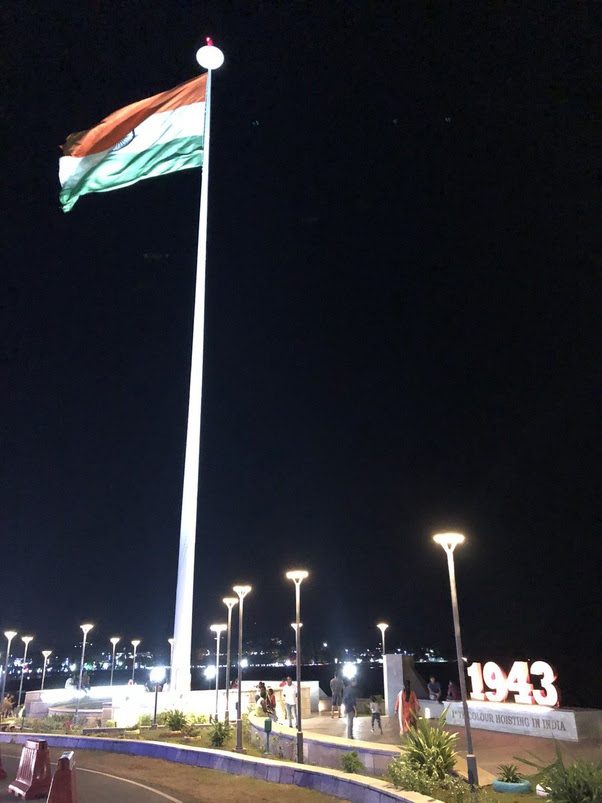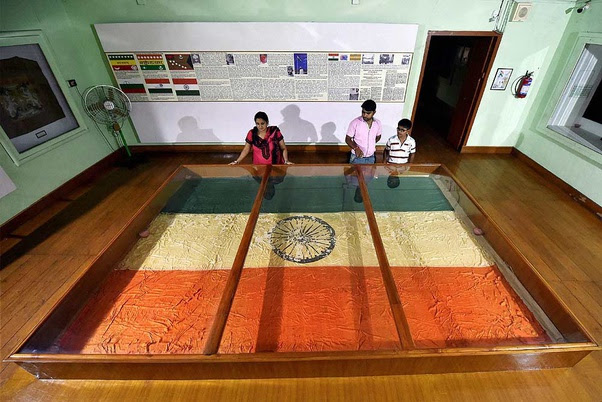 . The first time the Indian National Flag Flew on Indian Soil, was due to the liberation of Port Blair on December 30, 1943, by the Indian National Army. The spot is today marked with a flag post, below is believed to be the original flag.
A decade after World War II ended, India had moved to a position about the war which was not favorable at all. So many Indians came back with life long injuries and they had fought a war for an Empire which now did not even exist in India anymore. By the 1960s India had moved towards increasing relations with the Soviet Union, and the legacy of Subhas Chandra Bose would once more be suppressed, as he had enlisted the help of Axis Powers namely Germany and the Empire of Japan, to create an Indian Army to fight against the British Empire. The Soviet Union which ultimately had fought against the Axis, and suffered the greatest loss of life during World War II, would not have appreciated an India where Subhas Chandra Bose would receive anymore than a courtesy of respect.
Even in the current day, the idea of what India's role was during World War II remains something which does not inspire national pride. Indians do not feel that this war was their own in any complete sense. The popularity of Subhas Chandra Bose has only grown in the past several decades and his place in Indian History has become one of a man who's sacrifice was never fully appreciated. Leaders such as Mahatma Gandhi and Prime Minister Nehru have seen their legacy questioned and in the case of Prime Minister Nehru, his focus on socialism and tendency to take brash decisions is now fully being analyzed and discussed openly. His failure to overrule military planners in both the first Indo-Pakistan war of 1947 and the later 1962 Sino-Indian War have marred his legacy significantly for newer generations. Along with this the idea that India was forced to send 2.5 Million soldiers into harm's way during World War II, is in many ways seen to be a case of colonial exploitation of India at the time when Indian Freedom Fighters could not prevent this. Most of the leaders of the Indian National Congress were imprisoned during World War II, as a largely pre-emptive action by the colonial government. They knew full well that Congress was not going to cooperate without a guarantee of Indian Independence this time around.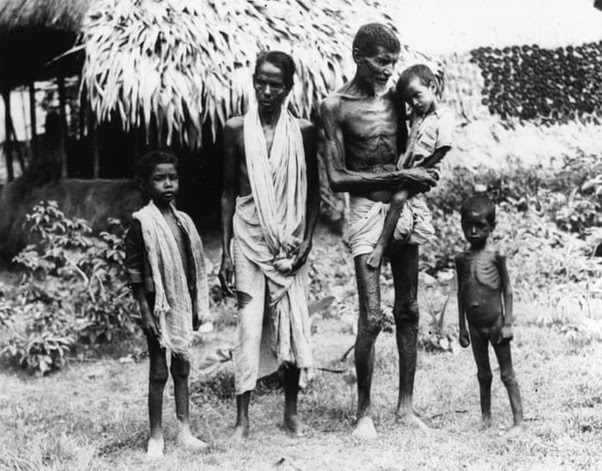 The Bengal Famine (1943–45), was the largest intentionally caused a famine of the 20th Century. Between 6–10 Million Indians perished because of Winston Churchill's policy of exported grain out of India, and refusing assistance offered by both the United States and Australia.
In retrospect, World War II in India was a time when Indian Industrialists though few in number made fortunes from supplying products to the war effort. Wealthy Indians did very well, as the prices for commodities rose, and they could benefit from the trade so to speak. For the average Indian, it was a time of increasing shortages of food, and rising prices. The complete dedication of the Indian Economy to the war effort created work but it was low paying and the divergence from supplying food domestically was a far greater hit for the economy than the increase in industrial output. The reason for this was because of artificial accounting practices at the India Office in London. India was actually having record trade surpluses with the U.K. but these were negated by service fees for the Governance of India and by charges for its defence. In essence, India was defrauded all its production, labour and loss of finances. The end result was an India which was expected to repay war debt but not collect what was due to it. In all reality, India would emerge even poorer than it had been in 1939. When the true reality of the situation is considered it is no wonder than even today World War II does not hold the same meaning for India that it does in other parts of the world.
Connect with us to be a part of our family: